作者:LINSEY STONCHUS
The main purpose of technology has always been to simplify everyday tasks, cutting time and unnecessary effort. So goes the smart home: its main functionality is to automate the surrounding environment and minimize the effort to manage it.
"Smart home" has grown to be a popular phrase in luxury listing descriptions. Alongside it, the name "Crestron" is frequently mentioned, as the brand is synonymous with top-of-the-line home automation solutions.
"If we fast forward five years, every home will have 'smart home' as part of the description," said Michael Short, marketing director of global residential and marine at Crestron Electronics. "I honestly believe that in five years' time, if a house isn't smart then it's outdated."
Put simply
The top two considerations to take into account when planning the idyllic smart home is prioritizing a streamlined experience above all else and then tailoring the house to match one's lifestyle.
"I think one of the biggest benefits of a professionally installed smart home is that you get that seamless control and everything is built and made to work together, and it's then configured so it performs optimally, consistently and reliably," Mr. Short said.
To accomplish this task Crestron Home allows its clients to manage everything from one app.
"You don't need to jump through 50 different apps to control devices," Mr. Short said. "It's one experience – seamless touchscreens, remotes, phones – and that experience is easy to learn and enjoyable."
From a single app, the homeowner or guests can play music or movies, adjust the climate and so on.
"Say you're a guest in my house," Mr. Short said. "You'd be able to open your phone and open up Airplay for music. As long as I've given you access to my network, all of the rooms in my house would pop up and allow you to easily stream your music from your device across the home.
"I can obviously restrict your access," he said. "I can say, 'only let this happen in the kitchen or the dining room.' But it's just that ease of functionality."
After simplicity, lifestyle should be considered next.
"I think the most important thing and what you should focus on is, 'What do you want to get from your smart home?" Mr. Short said. "How do you want to live? How does your family want to live? How do you enjoy life in your home?
"Because a smart home isn't a smart home if it doesn't work for your life," he said. "That's really, really important."
Consider individual goals and the overall needs of the family unit. Think about what is necessary for working, entertaining and relaxing.
"Smart homes should be built around you," Mr. Short said. "Many people probably don't understand how far you can go with a smart home."
For example, there is the ability to set up and edit "scenes," as the environment set for a formal dinner might look very different from the settings for a lively soiree.
In the bedroom, shades may be automated to gradually rise in the morning for optimal circadian rhythm. At dinnertime, lights might dim in the dining room for a candlelit meal. To entertain guests during a party, a certain playlist can be played throughout the house.
The sheer magnitude of these options, however, can be overwhelming.
"If you don't know the right questions to ask, then find a professional who can," Mr. Short said. "That's when you open Pandora's box and realize that there is so much more to a smart home than maybe you thought was possible.
"But certainly focus on one thing," he said. "What do you want the smart home to do for you? How do you want to live and what do you want to experience at home?"
Healthy habits
Many affluent homeowners are seeking a life with wellness at the forefront.
"The big trend this year is going to be health and wellness," Mr. Short said. "First of all, because of COVID, everyone was spending more time in homes.
"People then started to realize that the home needs to become more than just a sanctuary or a space," he said. "They started to think of the home as a place where health and wellness can be improved.
"I think over the next year, you're going to see a really fast-paced change in people starting to understand how smart home tech can help with health and wellness," he said.
For instance, circadian rhythm's effect on the sleep-wake cycle.
"It's how you wake up," Mr. Short said. "It's how much energy you have during the day, and it's how tired you feel at night – and lighting affects every element of that circadian rhythm."
Light does not need to be natural to affect circadian rhythm.
Keeping on too many white LEDs or spending too much time on a mobile phone can also trick the brain into remaining awake into the late hours of the night. Dimmer lighting and orange tones that mimic the sunset activate melatonin and help the body sleep.
Artificial light, however, should act as a supplement to what is already outside. What good are floor-to-ceiling windows if the shades are always kept down?
"We want those shades to be open because we want to connect with nature," Mr. Short said. "Humans innately feel better when they're with nature."
Time the shades to rise with the sun and the lights within the home to gradually glow brighter to match the atmosphere outside. In the evening, embark on the reverse.
"You're going to start to have better health and feel much better about your day," Mr. Short said.
Smart tech can also purify the air and water of the home. The temperature can be optimized for best functionality and music can set the mood in a yoga studio or gym. It all works together.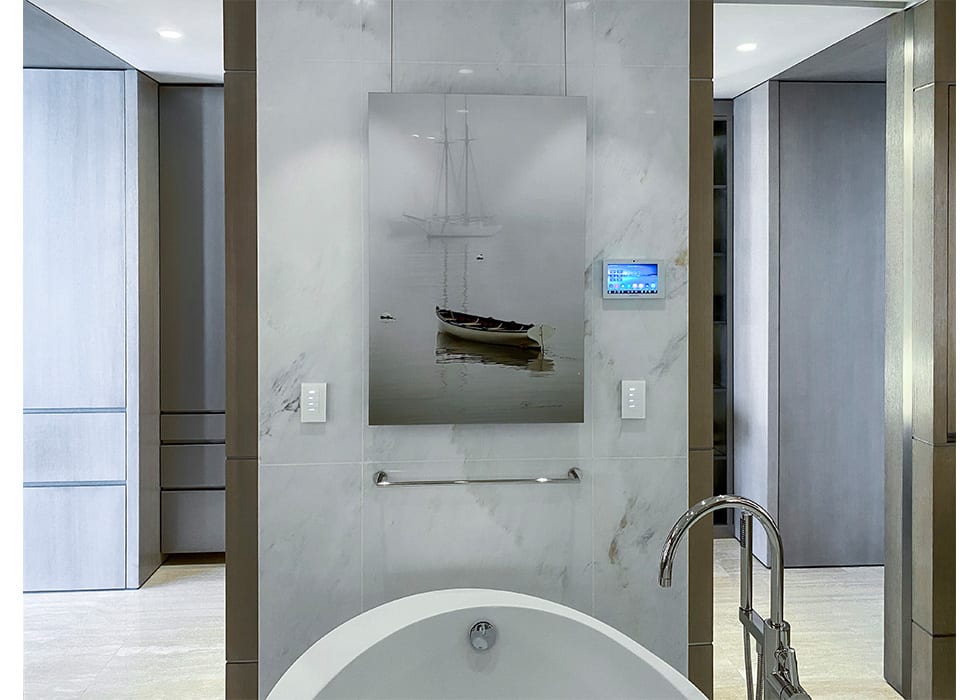 Designer's touch
Crestron prefers its technology out of eyesight – like crew hands in a play, vital to the performance, but outside of the limelight. But for those devices that do make an appearance, they need to look the part.
"We want all of our technology to be hidden behind-the-scenes," Mr. Short said. "We want it to be out of the way. But those devices that you actually see, touch and feel – they have to be beautiful. They're luxury products at the end of day, and, therefore, they have to feel in touch and look like luxury products.
"The touch screens, to start with, the new range came out last year, and they're super thin wall mounts, a tiny bezel goes around the edge, so it feels like it's a full screen," he said. "They're absolutely stunning and they fit on the wall seamlessly, so they need to take pride of place in those areas where you're going to be controlling the most scenes."
The video and images on-screen can be set to match the rooms they are in, as can the frame. The screen runs on light and dark mode, depending on time of day. Keypads, remote controls  and thermostats, too, may similarly be customized.
"Even when you look at our speakers that go into the ceiling, the speaker grills are perfectly designed to be hidden, to be put upon the ceiling so that they sort of melt into the room so they don't become something that people look at and see as an eyesore," Mr. Short said. "It's a hugely designer-led approach with all the technology that we bring to market."
Even the shades are available in more than 400 fabrics, meaning homeowners never have to compromise style for functionality.
"These are really discerning clients that we work with, and they only want the best," Mr. Short said.
WHILE SMART DEVICES are increasingly being incorporated in the homes of today, it is greatly underestimated just how advanced the technology is. Much of the home's functions can be automated, streamlined and personalized to even the strictest specifications.
According to Mr. Short, many people ask, "'Wouldn't it be great if there was a way that all these things worked seamlessly together? That's the future.'"
"At Crestron, we've been doing this for years," Mr. Short said. "I think it's really important that people start to know that this technology is out there and the solution is out there."