作者:LISA KLEIN
Adaptation is the key to luxury real estate going into 2023.
According to Luxury Portfolio International's newly released State of Luxury Real Estate (SOLRE) 2023 report, affluent home buyers are moving past, and working with, pandemic shifts in the market, thinking long term and city center for their next purchases.
"The panorama of the 'COVID boom' is clearly behind us, with the latter half of 2022 ushering necessary market stability into 2023 and beyond," said Mickey Alam Khan, president of Luxury Portfolio International.
Changing course
Affluent consumers appear to be leaning into the new real estate environment, according to the 2023 SOLRE report, which is based on a survey of nearly 3,000 individuals in the top five percent income in 28 countries.
1 宓宓
These buyers do rely on facts and figures about their investments (85 percent), but also their gut feelings about them (89 percent).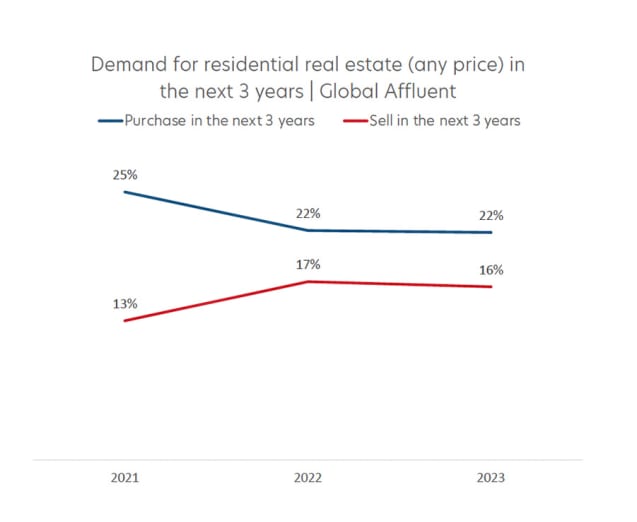 Both methods have led 72 percent of luxury buyers to say they are ready to purchase a new home, but only 53 percent are also ready to sell.
This may be one contributing factor to the continuing inventory shortage and price increases that swept the globe throughout the pandemic real estate frenzy.
The gap is finally closing a bit, however.
In 2023, 22 percent of buyers plan to purchase in the next three years and 16 percent plan to sell, compared to 25 percent and 13 percent respectively in 2021.
During the pandemic, low inventory runaway pricing resulted in the most expensive places in the United States, including Palo Alto, California, Aspen, Colorado, and Sagaponack, New York, to have a relatively low growth rate.
1 宓宓
Embracing change
This year, the sands are shifting back to major cities. The majority of all types of luxury buyers plan to purchase property in a city center – 37 percent of primary home buyers and 47 percent of investment buyers, speaking to the city's continued investment value.
All buyers reported that investment quality is their number one priority in a new property purchase.
Also, in 2023, there will be more investment buyers that primary home buyers – 33 and 31 percent, respectively. Perhaps due to economic swings, 66 percent of those surveyed said real estate is the best investment currently.
The hottest markets for international investors – more than half of whom are from the U.S. – are New York, Beijing and Singapore.
Luxury buyers indeed have funds to invest. Global wealth increased 13 percent last year and 80 percent of those surveyed said their personal financial stability had improved over the last three months.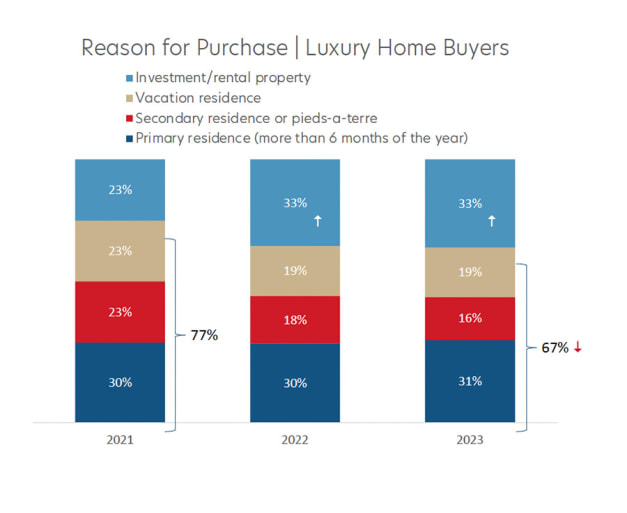 Aside from investing, luxury home buyers are thinking long term. Sixty-six percent want a property where they can age in place with multi-generational living spaces and room for at-home healthcare. Sixty-one percent are thinking even farther into the future for a legacy home for their heirs.
Sustainability and wellness features, natural beauty and family-oriented spaces are all top priorities for these buyers.
"The luxury homebuyer is arguably the most astute connoisseur of real estate in the world," Mr. Alam Khan said.
"The study underscores that they are highly attuned to the realities of the global financial and geopolitical landscape, yet luxury residential real estate remains a preferred destination for their wealth," he said.